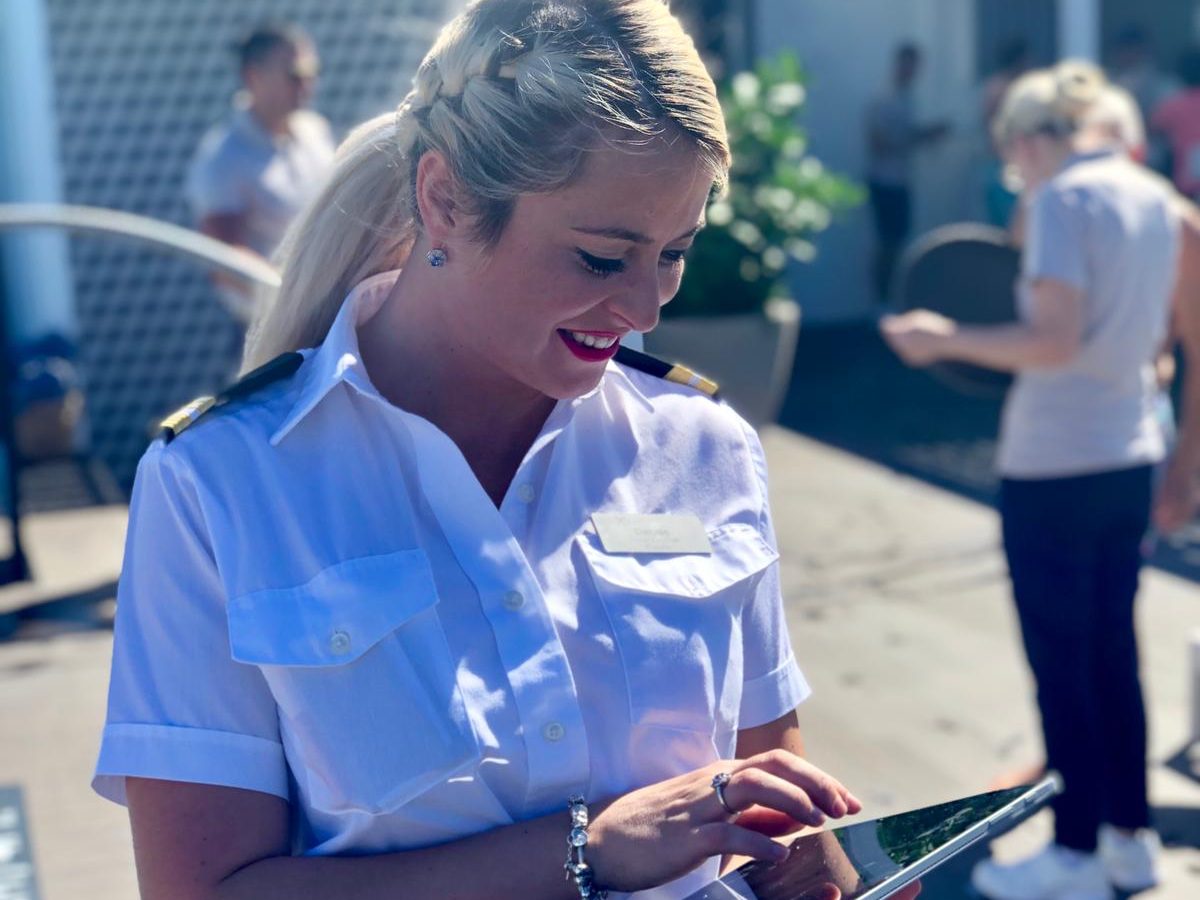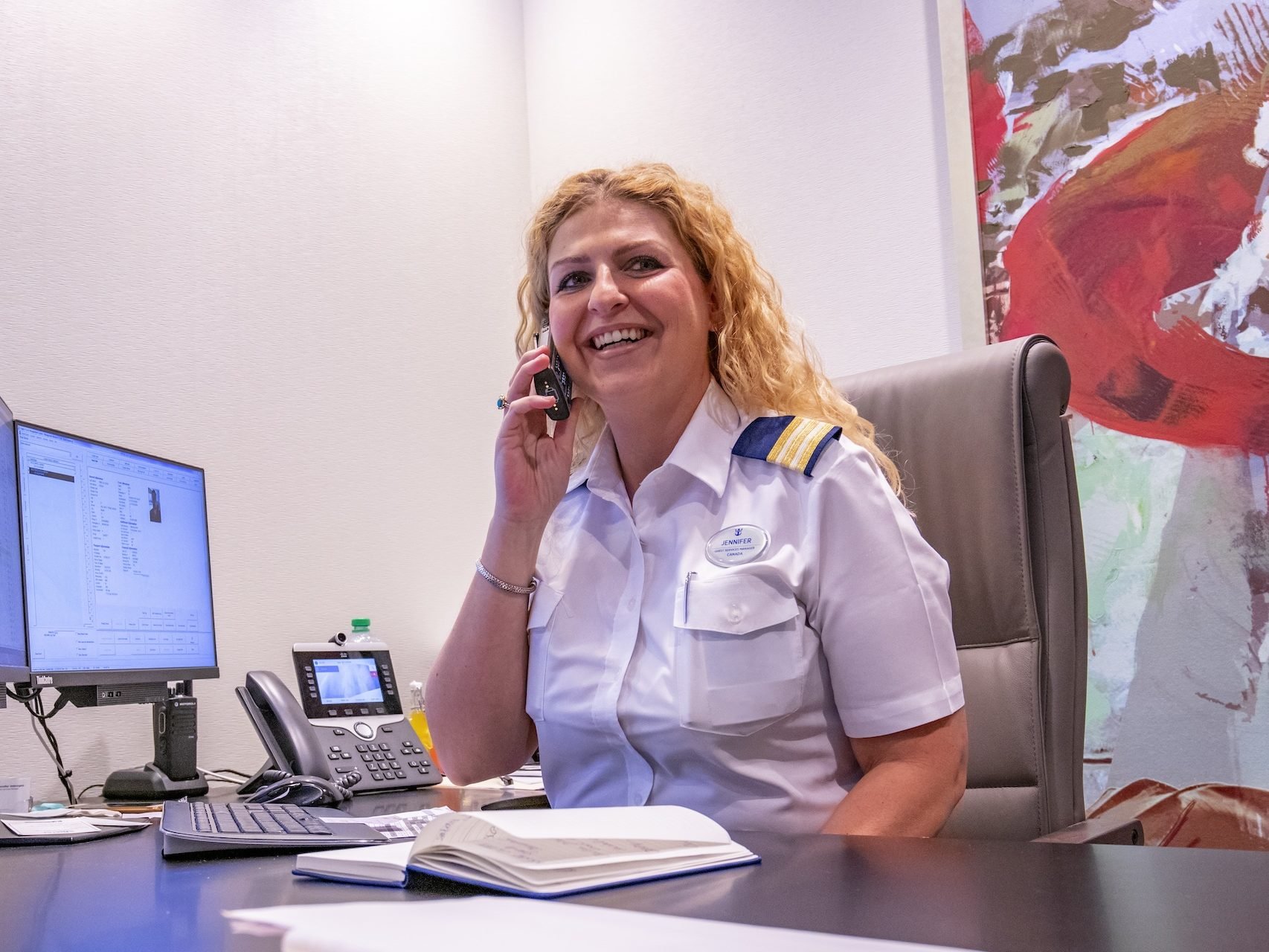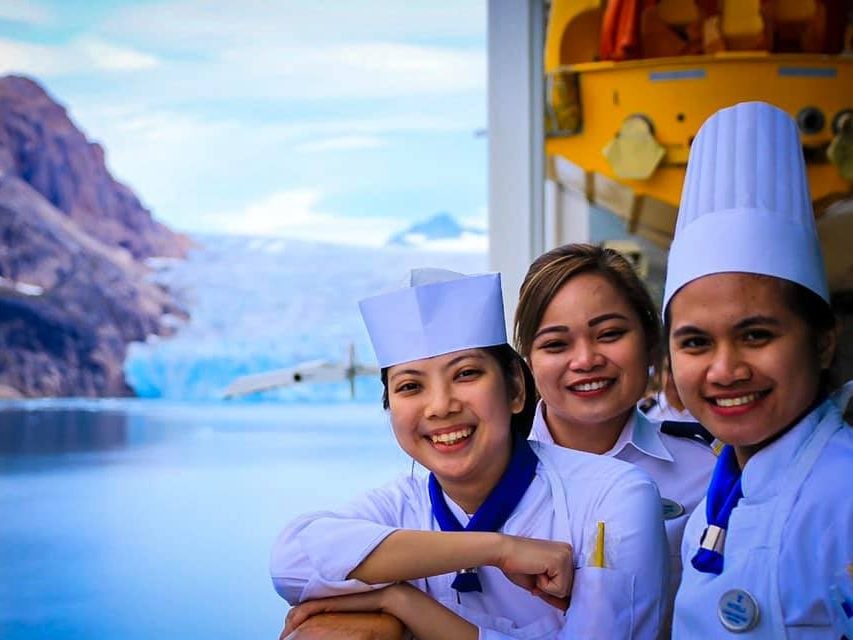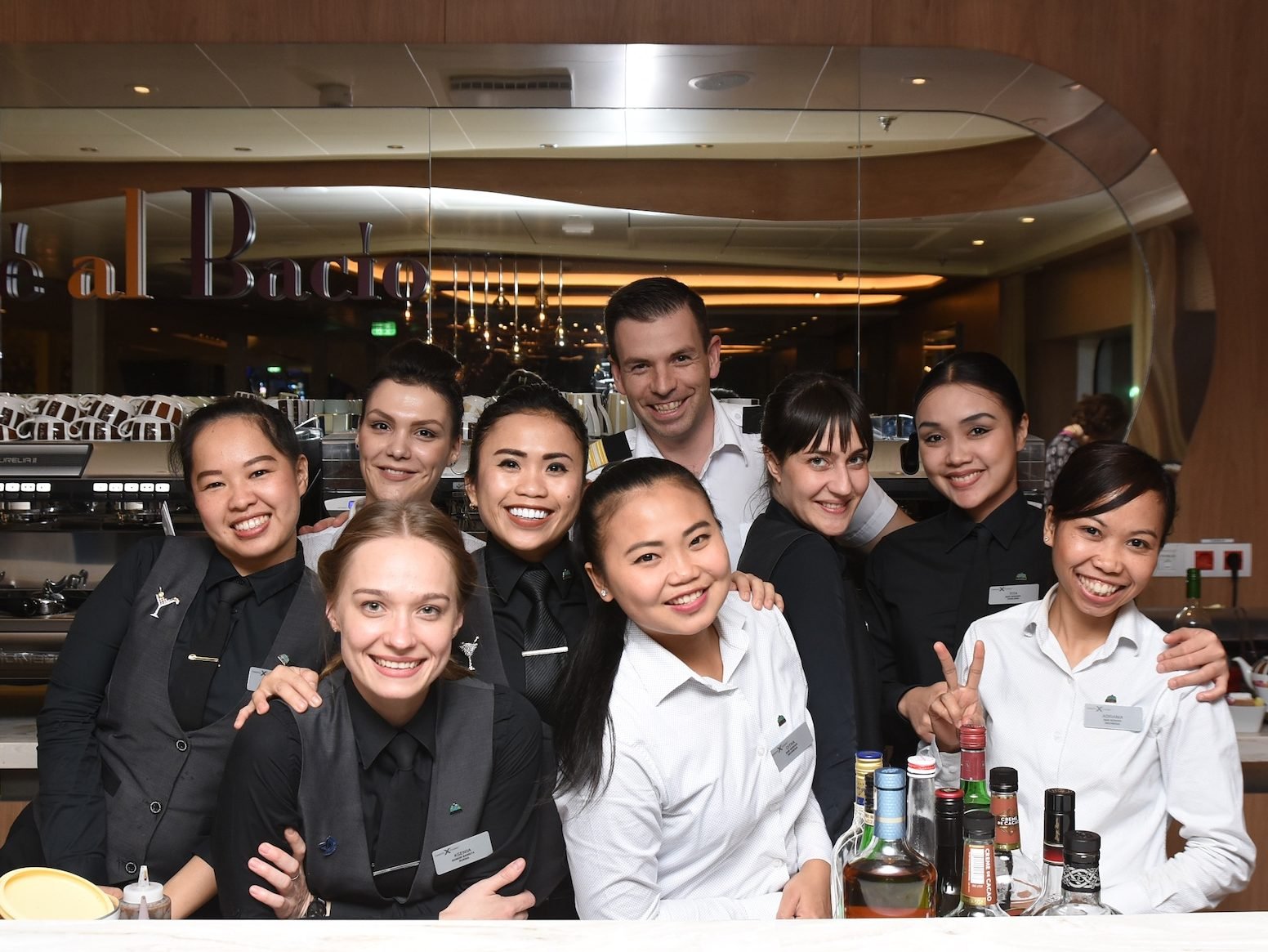 Interested in working on a Royal Caribbean Group ship? We're here to help. Below are the answers to some of the most frequently asked questions. Check them out below.
General Questions
Where do Royal Caribbean Group ships sail?
Our ships sail around the world and visit exciting and unique destinations on every continent. Many employees note that traveling the world is one of their favorite parts of working on our ships.
What companies make up the Royal Caribbean Group?
We are made up of five brands: Royal Caribbean International, Celebrity, Silversea, Tui Cruises, and Hapag-Lloyd.
What is a letter of employment?
A letter of employment (LOE) is a document provided by Royal Caribbean Group (or Hiring Partner) that states the date you are scheduled to join our team, the vessel you are joining, and the position for which you have been hired. You must have this document available at all times when traveling to join the ship.
Where do I get the pre-employment medical (PEME)?
All Royal Caribbean Group's brands' crew members are required to complete an extensive pre-employment medical examination prior to joining the ship. In most cases, the examination is at the employees' expense. The examination should be conducted through one of RCG's approved medical facilities. Once the medical examination is complete and approved by our corporate medical department, employees will be cleared to travel. This medical documentation will then be valid for two years. Your recruiter or hiring partner will discuss this with you in more detail.
Do I have to wear a uniform?
As a team, we like to project a consistent and professional image; therefore, we have carefully chosen a uniform for most positions. Uniforms will be provided onboard and there are some uniform items that are considered personal items crew are required to pay for. Your recruiter or hiring partner will discuss this with you in more detail.
Does Royal Caribbean Group hire couples?
Royal Caribbean Group brands welcome couples onboard. However, each applicant is assessed individually based on their qualifications, and although every effort is made to accommodate couples to be assigned to the same ship, we cannot guarantee that they will be assigned to the same ship, since business needs take precedence.
Is medical attention available to employees?
Yes, of course! Our crew's safety and wellbeing is our highest priority. Should employees become ill while onboard, each ship has a team of dedicated medical professionals that will provide assistance at no cost to the crew member. However, while the medical team is ready to assist in any urgent situation, they shouldn't be considered your primary medical care provider. It is important to join the ship healthy and ready to work. If you have any prescriptions that have been cleared as part of your pre-employment medical exam, those should be filled for the duration of your assignment before you join.
Are crew members entitled to discounts for their families?
As part of Royal Caribbean Group, we offer different discount programs for our employees and their families. Depending on your position, you may have to wait for some time before qualifying for this benefit.
Do I have safety responsibilities?
In the unlikely case of an emergency, we need to be ready. Therefore, all crew members must attend emergency training, and are required to participate in boat drills. Every crew member is assigned an emergency duty which they will be trained on and practice during regular boat drills.
Will I always work on the same ship?
Assignments are based on many factors, and priority is understandably given to business need. Generally, there are periods where an individual is assigned to a particular ship, in order to provide an opportunity for the teams to build relationships and consistency. However, as with every aspect of shipboard life, flexibility is key. You might be transferred to another ship as necessary.
Can I socialize in Guest Areas?
Access to guest areas will depend on your position. Your scheduler or recruiter can advise you what your onboard privileges would be.
How long would I be onboard before going back home?
A contract ranges anywhere from three to approximately eight months, depending on the position. Most senior management roles have 4-month contracts while most of the rest of the positions have 6-8 month contracts. Employees live onboard for the total length of their contracts.
Do I get time off while onboard?
Because ships have guests onboard 7 days a week, you may not get a 24-hour period off; however, you will still have time to rest, visit the ports, and participate in fun events.
What happens if I have a family emergency?
In case of family emergencies your HR manager will work closely with you to make necessary arrangements.
To which ship would I be assigned?
Once you have been offered a position, you will be advised which ship you will be joining. Please keep in mind that assignments are provided based on business needs, therefore, you could join any of our beautiful Royal Caribbean Group ships!
How do I get to the ship?
Depending on your location and the ship's location, you may fly to the nearest airport. In some cases, this will be at the crew members' expense for the first contract. The company covers the cost of repatriation after your contract is concluded as long as you satisfy the basic requirements of your assignment.
If specific tools are required to perform my job, do I need to bring them?
No, all the tools you need to perform your job will be provided by the company. We know there's a lot to consider. As you go through the application process, our recruiters and hiring partners will be glad to provide guidance, and more relevant details to answer any additional questions about shipboard life.
Requirements to work onboard
What are the requirements to work onboard Royal Caribbean ships?
Regardless of the position for which you are applying, to qualify for shipboard employment you must have a valid passport, and the ability to:
Obtain a C1-D visa (unless you are Canadian or a US citizen or resident).
Pass RCG's pre-employment medical examination.
Obtain relevant itinerary-driven visas (i.e. Schengen).
Present the proper qualifications/certifications required, based on your role.
Pass a criminal background check.
Obtain flu vaccines and negative COVID-19 tests.
What languages are required to work onboard?
English is the official language onboard our vessels, therefore, all employees must be able to read, write and speak English. Some positions have specific language requirements, but (in general) English is sufficient. However, because of our international guests and exciting itineraries, it is helpful if you speak additional languages, including (but certainly not limited to): Italian, German, French, and Spanish. Additional language skills are always a plus!
Does Royal Caribbean Group have a drug policy?
Royal Caribbean Group is a drug-free company, and we have a zero tolerance policy for consumption or possession of illegal substances. Because we operate in many jurisdictions around the world, even if a substance is legal in one location it may not be legal elsewhere, therefore you should refer to company policies for a list of prohibited items.
Are employees allowed to smoke?
When off duty, employees are allowed to smoke in the designated smoking areas. Smoking in crew cabins is prohibited.
Visa questions
What is a C1-D visa?
A C1-D visa is a non-immigrant visa issued by US embassies around the world. This visa allows crew members to transit through US ports. If offered a position, Royal Caribbean Group will provide a letter to support your application. This visa is not required for Canadians or US citizens or residents.
What is a Schengen visa?
Some nationalities are required to obtain this visa in order to enter countries that are part of the Schengen territory, in Europe. Your Hiring partner or HR representative can help you determine if you need to apply for a Schengen visa.
Room and board questions
What should I pack?
Since cabin space is very limited, it is recommended that employees bring only what is needed. Some suggestions would be:
Clothing: Jeans/long pants, sweater, shirts, belt(s), shorts and T-shirts, appropriate shoes, tennis and/or beach shoes, and swimsuit. We also recommend bringing one pair of black pants, one one shirt and a pair of comfortable black shoes.
Toiletries: Deodorant, razors, brush/comb, toothbrush/paste, shampoo, shaving cream, sunblock.
Other: Medication, beach towel, laptop, smart phone and hair dryer.
Are any items prohibited?
Objects that may represent a hazard are prohibited. Examples include weapons, clothing irons, hot plates, candles, incense, and any other items that may create a fire hazard, or are deemed unsafe by shipboard security. Curling irons, flat irons, and hair dryers are allowed.
Do Royal Caribbean Group brands provide accommodations while I am onboard?
Forget about paying rent! Our brands provide accommodations for all shipboard employees. Depending on your position you may share your cabin with a fellow crew member. Because space is limited onboard, cabins and bathrooms are relatively small compared to land-based accommodations, but don't worry there are plenty amenities for you to enjoy when you are off duty.
What if I don't get along with my roommate?
Working onboard is a great opportunity not only to grow professionally, but also to make friends from all over the world. While different cultures act differently and sometimes it takes time to adjust, we believe that being open and respectful always leads to good relationships. Communication is usually the key to get along with your roommate; however, if for some reason you don't feel comfortable you can check with supervisor who will try to facilitate a cabin switch.
Where will I have my meals?
Our chefs create for our crew a variety of dishes from different parts of the world, providing options for a healthy and well-balanced diet. All meals are served in crew-allocated dining areas. We also frequently send out surveys asking for feedback on living onboard – if you'd like to request a certain meal, just ask!
Do you have laundry facilities for employees?
Yes, there are laundry facilities available for the crew.
What type of electrical system will be in my cabin?
Cabins offer US 110V and 220V outlets.
Do employees have internet access?
Yes, each ship has an internet café that is available to employees, with several computers that have internet access (fees apply). For those who would like to bring their own laptop, wifi is available (fees apply). Text messaging is free within WhatsApp.
How do I call home?
You can purchase minutes to use for long-distance calls from the ship. Be sure to download WhatsApp on your smartphone device. You can utilize free WhatsApp text messaging to family members while onboard. You may also purchase a wifi package for calls and video streaming.
Is to possible to receive mail while onboard?
Yes! There is a central location where all mail is received and then distributed to the ships. Your shipboard HR team will be able to provide more details.
Would my cell phone work onboard?
Cell phone service is available onboard; however, international roaming rates do apply. You may want to check the rates with your provider before using your cell phone.
Would I be able to buy some necessities (i.e. toiletries) onboard?
The Crew Shop is a general store for crew on every ship. It sells all sorts of things you might want during a contract and charges low prices too.
Can I make purchases in the Gift Shop?
The gift shop is available to crew members during crew sale events. Shipboard employees are entitled to a 20% discount (some items excluded).
Are there places to exercise?
Yes! Each ship is equipped with a crew gym. We encourage you to take advantage of it and work out at your leisure.
Are there places to socialize with my teammates?
Yes, there are different types of areas where you can socialize with your colleagues, including the crew bar, and other lounges and common crew areas.
Is there a hair salon onboard?
Each ship features a spa and hair salon onboard, and treatments are offered at a discounted price to crewmembers. Appointments are necessary and, as expected, guests have priority. We also have a crew barber shop available. Please inquire with your shipboard HR team.
How do I get paid while onboard?
Employees are paid in U.S. dollars twice a month to a pre-paid Mastercard operated by North Line.
How do I send my money home?
You may wire transfer money to your land-based bank account from your pay card up to certain limits. Please note that there may be a nominal fee from the receiving banks.
Are taxes deducted?
For U.S. citizens and residents, federal taxes are automatically deducted from pay. All other employees are responsible for filing and declaring their own taxes upon returning to their home country.
Should I bring cash with me?
We suggest you bring at least $200-300 cash in U.S. dollars and/or a major credit card, to cover out-of-pocket expenses during travel and before receiving your first pay.
PORT QUESTIONS
Do I get to visit the ports?
Definitely! When you are not on duty, you are welcome to explore the amazing destinations we visit. Just make sure you are back on time!
Can I participate in Shore Excursions?
As a service to our guests, we offer organized tours when visiting the ports. If space is available, employees are welcome to enjoy the excursions at a discounted price.
Are there any activities to enjoy during my time off?
At Royal Caribbean Group we believe in creating a fun work environment. We have a crew activities team onboard each ship in charge of hosting different events for our crew. From parties to sport tournaments, all activities are designed for our crew to enjoy life onboard.
Can family and friends come and visit me for the day?
Employees can apply for a one-day visitors' pass for family and friends; this must be requested with advanced notice. Please check with your supervisor for more details.
HIRING PARTNER QUESTIONS
Who are the Hiring Partners, and what do they do?
Royal Caribbean Group has a network of hiring partners to assist in meeting recruitment goals around the world. Hiring partners are third party service providers; they are not employees of our company. Only those listed on this site are authorized to recruit for our company. Learn more here.